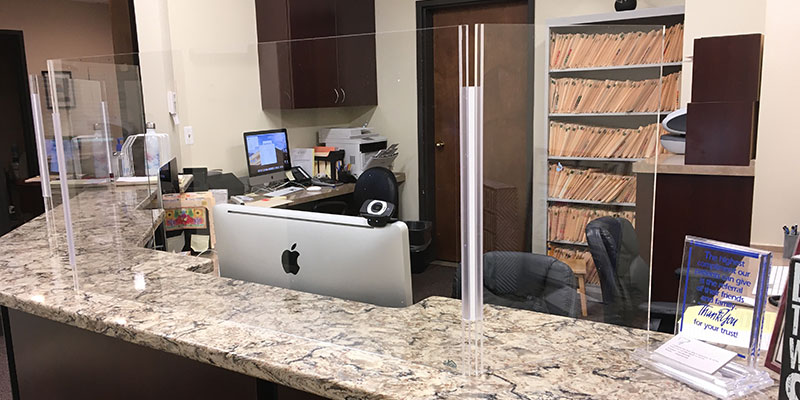 Reception Desk With PLEXIGLASS AEROSOL GUARDS
---
Safety Protocols – Your Safety Comes First
---
This is an open letter to my dear valued patients, families and future patients.
After consultation with leading experts in multiple fields, I have made several critical changes in the office to ensure the health of you as a patient, my staff, and myself.
In the past, we have followed a strict protocol of sterilization: autoclaving all instruments, disinfecting all surfaces, and wearing appropriate protective clothing.
The office now has HEPA 13 Filtering systems capable of removing up to 99.97% of all virus/ bacteria and changing the air every 15 to 30 minutes for each room in the office.

 

A Hydrolyzed water solution widely used in hospitals is also being employed on surfaces and atomized in the air.

 

This CDC accepted solution is virtually non-toxic with no effect on skin, eyes, or lungs.

 

In fact, it is widely used in the food industry to directly sanitize food.

 

It is also naturally produced in the body as part of our immune system.

 

The concentrated solution is shown to be very effective on these types of viruses. 
---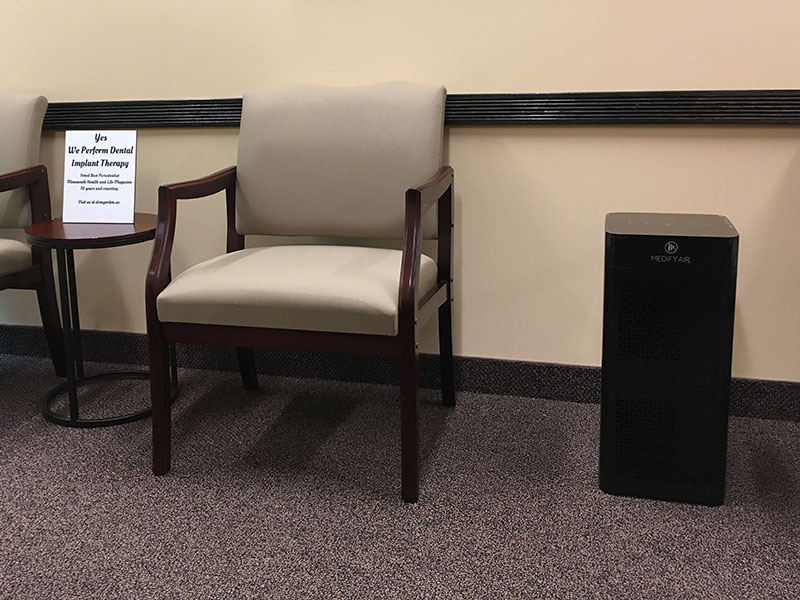 ---
Reception Area With HEPA MERV 13 Filtering System`s Between Socially Distant Seating
---
---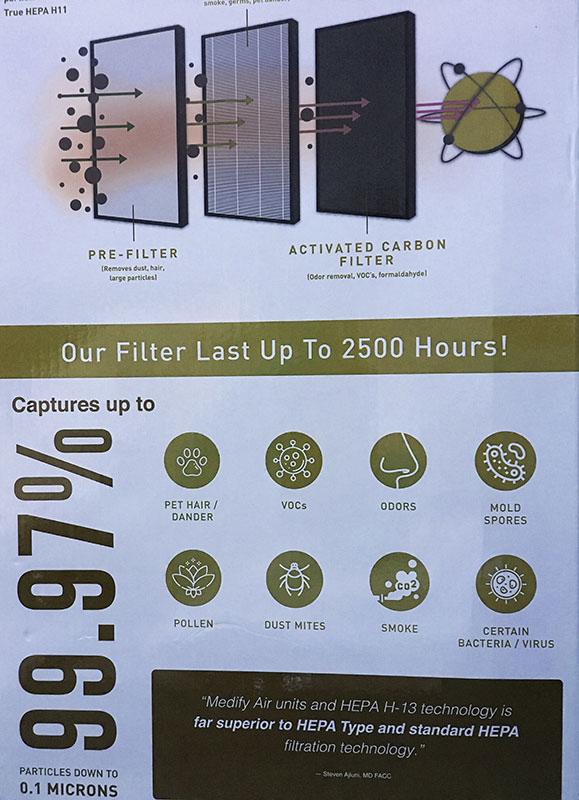 ---
The HEPA MERV 13 Filter
---
The Hygienist, and Assistant staff and I will be wearing masks and barrier resistant gowns while we are in the office. We spraying/ wiping down all contacting surfaces after each procedure to ensure that we maintain a high level of sterility and disinfection. This sanitation process will also be performed in the reception area.
All patients will be pre-screened for Covid risk.

 

My office will be sending you an online patient package which you will fill out online or in the office to again minimize paperwork.

 

We are minimizing the waiting room occupancy to allow "social distancing". When you enter the office, your temperature will be taken and screening questions will be reviewed to again reduce risk.

 
I feel confident for Patients, Staff, Myself and all of our Families that these extraordinary precautions that meet or exceed CDC and NJ State requirements allay concerns over exposure to the Covid 19 virus in our dental office.
This is one example of our level of quality provided in our office.  Please visit our Website for more information regarding the above and the compassionate, expert care we provide in periodontal and implant dentistry.
We wish you and your family continued health,
Dr. Marc Gordon and Staff
---
Request an Appointment
---